Theme
AppStack – Admin & Dashboard Template [ReactJS]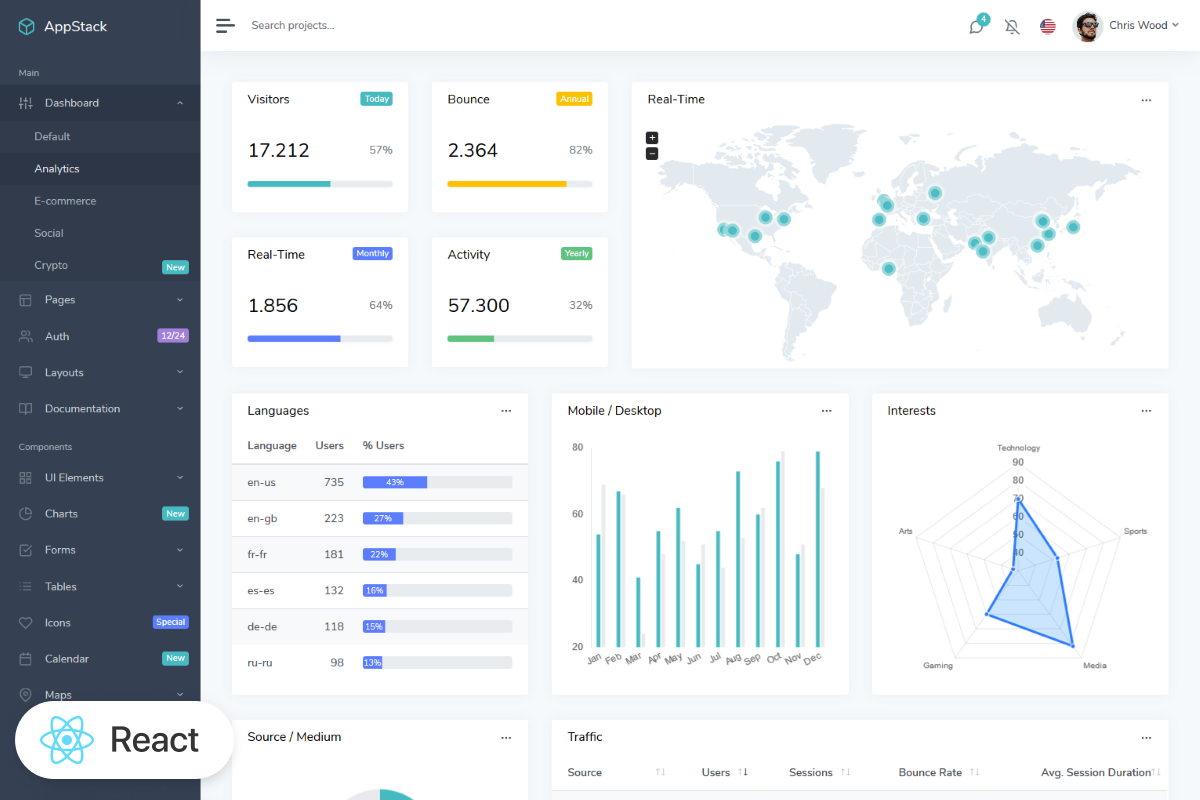 AppStack – Admin & Dashboard Template [ReactJS]
AppStack React Admin & Dashboard Template is a responsive Bootstrap 4 administrator dashboard built for everyone who want to webapps on top of the most popular frameworks, Bootstrap & React. AppStack React helps you to create your next Bootstrap even faster then before. It can be used to create a Saas based interface, administrator dashboard or anything you want to build on the web. AppStack React helps your team moving faster and saving development costs.
Responsive
---
With mobile, tablet & desktop support it doesn't matter what device you're using. Our themes are responsive in all browsers.
Customizable
---
You don't need to be an expert to customize our themes. Our code is very readable and well documented.
Quick support
---
Our themes are supported by specialists who provide quick and effective support. Usually an email reply takes <24h.
Cross browser
---
Our themes are working perfectly with: Chrome, Firefox, Safari, Opera and IE 10+. We're working hard to support them.
Clean code
---
We strictly followed Bootstrap's guidelines to make your integration as easy as possible. All code is handwritten.
Free updates
---
From time to time you'll receive an update containing new components, improvements and bugfixes.
Category:
Admin & Dashboard
---
---
---
---
Browsers:
Chrome, IE10+, Firefox, Safari
---
Formats:
HTML, JS, CSS, SCSS
Features
3 Different Styles
5 Unique Dashboards
Create React App
Redux
React Router 4
Async Loading
Code Splitting
Babel, ES6 & Eslint
Easy to customize
CSS Animations
Bootstrap 4
Webpack 4
Font Awesome
Feather Icons
DataTables
Google Maps
jQuery Vector Maps
Markdown Editor
Quill Editor
Toastr
ChartJS
ApexCharts
Drag & Drop