Theme
Spark – Admin & Dashboard Template [ReactJS]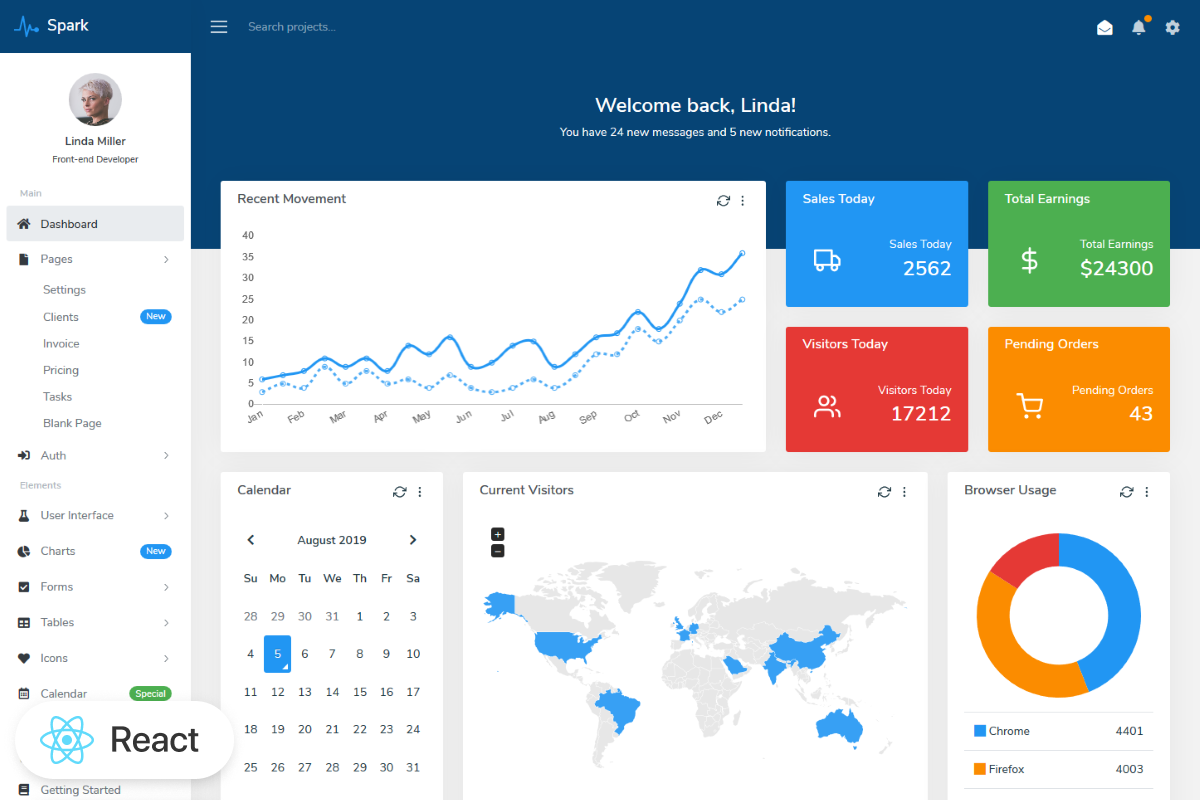 Spark – Admin & Dashboard Template [ReactJS]
Spark ReactJS Admin & Dashboard Template is a theme built with Bootstrap 4 & React, the most popular frameworks. Spark includes over 40+ pages including many components. The components can be used on any page. The theme is fully responsive and customizable and can be used for any type of web application, such as admin dashboards, file management systems, project management systems, leaderboards and much more. Spark ReactJS is developed with the latest & trusted technologies, such as ReactJS, HTML5, CSS3 (using Sass preprocessor) and NPM.
Responsive
---
With mobile, tablet & desktop support it doesn't matter what device you're using. Our themes are responsive in all browsers.
Customizable
---
You don't need to be an expert to customize our themes. Our code is very readable and well documented.
Quick support
---
Our themes are supported by specialists who provide quick and effective support. Usually an email reply takes <24h.
Cross browser
---
Our themes are working perfectly with: Chrome, Firefox, Safari, Opera and IE 10+. We're working hard to support them.
Clean code
---
We strictly followed Bootstrap's guidelines to make your integration as easy as possible. All code is handwritten.
Free updates
---
From time to time you'll receive an update containing new components, improvements and bugfixes.
Category:
Admin & Dashboard
---
---
---
---
Browsers:
Chrome, IE10+, Firefox, Safari
---
Formats:
HTML, JS, CSS, SCSS
Features
4 Different Styles
Create React App
Redux
React Router 4
Async Loading
Code Splitting
Babel, ES6 & Eslint
Easy to customize
CSS Animations
Bootstrap 4
Webpack
Font Awesome
Ion Icons
Feather Icons
DataTables
Google Maps
jQuery Vector Maps
Markdown Editor
Quill Editor
Toastr
ChartJS
ApexCharts
Drag & Drop